Hot Bath and Holiday Time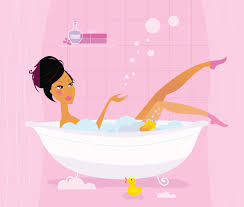 The holidays are in full swing which means spending, spending, spending. I must admit that I am not the type that enjoys walking through the mall or any type of shopping that includes long lines or waiting for more than five minutes. Now that may make me sound terribly spoiled but I just don't have the strength or the patience.
To get me through the endless shopping and the stress of knowing that I need to get my loved ones gifts that will put a smile on their face I have decided that hot baths are a must. They really are. There is nothing like 30 minutes in a warm tub with a beautifully lit candle, nice music in the background and a delicious glass of wine. Yes WINE!!! So I won't Whine!
Some of you may feel guilty about taking this time for yourself but you shouldn't because a little TLC goes a long way. Most of us take care of the people we love more than we do ourselves and how can we continue that if we are burnt out? My New Year's motto is to treat myself as kindly as I do others.
So when you feel overwhelmed from all the buying, the cooking, the lines and anything else that makes you wish you were on a tiny island in the Caribbean that is devoid of any cell or Wi-Fi service try my 1-2-3 fix. If you still fell guilt buy them for someone on your list as well.
1) Moscato: I like Jacob's Creek and Bartenura, (starting at $12, your local liquor store).
2) Philosophy's Peppermint Stick scented bath pearls, ($24, philosophy.com)
3) Elemis Scent of Spa Candle, ($40, timetospa.com)
Cheers,
Gift Guide Goddess