Stilettos are sexy but Flip-flops rock!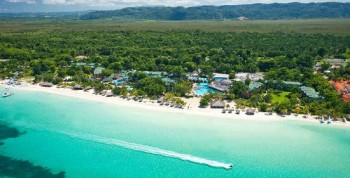 I am in love with high heeled shoes. I think that they are as sexy as fishnets or garter belts. If I am having a yucky day it's made better with a pair of my favorite 4"-5" heeled shoe. For girls who lack J-Lo's stack, a good pair can give you a nice little tush lift. I could go on and on about the thrill it gives me to put on a perfectly fitted pair but I won't. Maybe it's the Cinderella syndrome, but whatever the case beautiful shoes do put a smile on my face.
But that's not what this is about. This is about the joy I felt today at slipping on a pair of flip flops. It may seem weird that I would go from one extreme to another like that but for me flip flops signify the start of summer; the start of beach season. YES!!!
Maybe part of the joy of sliding into those open toed shoes has to do with the fact that the first 12 years of my life were spent on an island, and the first 6 close to the beach. And we all know that beach + sand = flip flops. I owned a pair of orange flip flops that had a flower planted right where the first and second toe meet, on your feet. They were given to me as a gift from my mother. I loved them. I remember thinking how pretty that flower was. So I think that whenever I put on a pair that feeling I experienced as a child comes back to me subconsciously. Still no matter what the reason it doesn't change the fact that it is sunny and beautiful which means hello beach season.
Now of course not all flip flops are made the same. So I feel it's my duty to help guide you in finding a comfortable affordable pair. Recently I walked by Kmart and they were advertising them for $2 each, so I bought a pair. They were ok but the front kept flipping under if I went from a slow stroll to a brisk walk. But for $2 what more would you expect?

A little bit more expensive on the list but well worth it are the basic simple ones from Old Navy. At $6 these can't be beat and their classic style is usually on sale for something like 2/$5,(oldnavy.com)

Then of course Old Navy's sister company the Gap also has very comfortable ones. The shimmer style available online are neat but the ones they have in store that are labeled as their most comfortable are even better and are about $15, (gap.com)

Now generally I wouldn't encourage anyone to spend more than $20 on a pair of rubber soled non dressy shoes but I take exception in this case with the Crocs retro flip wedge. It's about $45 but they are so durable and comfortable it's worth the investment, (crocs.com). You'll get more than one season's worth of wear out of these things. The weekend's here so put on your flip flops and sunblock then head to the shore.
Yours,
Gift Guide Goddess!
P.S. Hope you caught or at the very least recorded "Behind the Candelabra" on HBO from last weekend. It was really well done.